About Sarah Elizabeth (2014)
Sarah Elizabeth Harney was raised on an innovative farm just outside Elmore a small town in rural Victoria.
Whilst she will always love having no neighbours, she took her country girl naivety and followed her creative passions to Melbourne.
She trained in all things art and visual storytelling with a Diploma of Arts at the University of Melbourne and a Bachelor of Creative Technology (Film & TV Production) from JMC Academy in 2013.
Now a writer, director, editor, producer (and compulsive multi-tasker…) by trade, she has created several drama series and short films that are a hectic combination of wit, sass and high stakes.
Her TV show 'Sort Your Sh*t Out' is a sexy, witty drama, led by a woman who is far more comfortable sorting everyone else's sh*t out than her own and premiered in Melbourne and online in January of 2014. She is also currently creating 'No One Told Me', an honest discussion series with people that inspire her; about life, intimacy & purpose. Sharing wisdoms about the things we wish someone had told us earlier.
---
About Jenny Jiang (2013)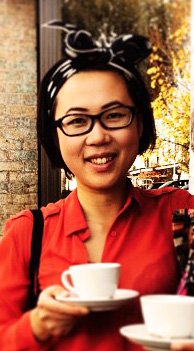 Born in China, raised in Kalgoorlie, schooled in Perth, universitied in Melbourne and now working most days from the Electron Workshop. Jenny is the cofounder of Melbourne Op Shop Tours, co-organised last year's TEDxLittleLonsdaleStWomen event and was a corporate lawyer for two years. She's now working on a project that is currently called What We Do – aiming to give high school students (as well as anyone else who's interested) more meaningful insight into the working world.
If she's not at Electron Workshop, she is probably doing some community managing over at Impact by Design in St Kilda, or serving herbal tea and pilates at Breathe Wellbeing in the city.
Lunchtime Learning Reflections